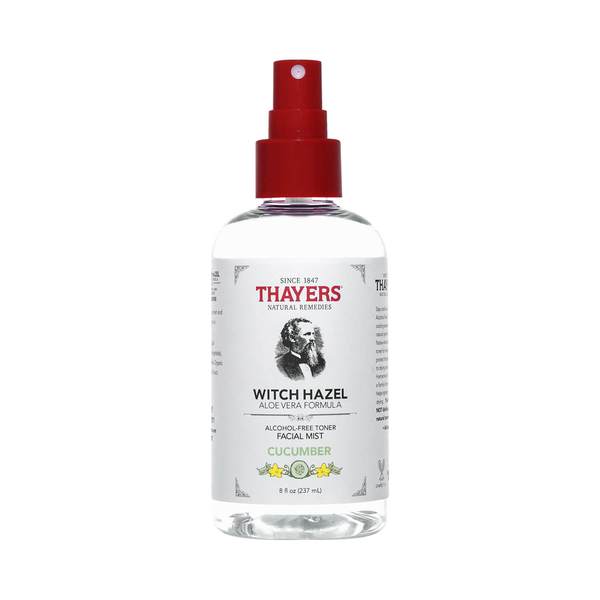 Alcohol-Free Cucumber Witch Hazel Facial Mist Toner Cucumber, Cucumber
Stay cool as a cucumber with THAYERS Cucumber Facial Mist. This pH balanced, gentle mist is derived from a time-honored formula, developed by Thayers to cleanse, tone, and moisturize skin. Formulated with Cucumber and our unique, proprietary blend of Aloe Vera and non-distilled Witch Hazel that is grown exclusively for Thayers on a family farm in Fairfield County, Connecticut. By avoiding distillation of our Witch Hazel, we're able to preserve the naturally-occurring, beneficial tannins which are known to offer antioxidant benefits. Our toner formula imparts a natural glow to your skin. Thayers elixirs have been a fixture in medicine cabinets for generations – once you use them you'll know why.
INGREDIENTS
Aqua/Water/Eau, Glycerin, Hamamelis Virginiana (Witch Hazel) Bark/Leaf/Twig Extract*, Aloe Barbadensis Leaf Extract*, Cucumis Sativus (Cucumber) Fruit Extract, Fragrance, Phenoxyethanol, Caprylyl Glycol, Ethylhexylglycerin, Citric Acid, Potassium Hydroxide
*Denotes Certified Organic Ingredients

Made in USA of US and/or Imported Ingredients. Vegan Formula: No animal derived ingredients. Alcohol-Free • Paraben-Free • Phthalate-Free • Gluten-Free

The carefully selected, naturally sourced ingredients in this product have undergone limited processing. Variations in color, clarity, etc. can be expected from lot to lot due to our use of naturally occurring ingredients. What are natural origin ingredients? Thayers only considers an ingredient to be of natural origin if it is unchanged from its natural state or has undergone processing, but retains greater than 50% of its molecular structure from its original natural source. 2% of the ingredients in Thayers Cucumber Facial Mist are not natural in origin in order to ensure its sensoriality and preservation.
HOW TO USE
Apply by misting to cleanse, soften, refresh and moisturize skin. Use anytime throughout the day as a softening refresher.