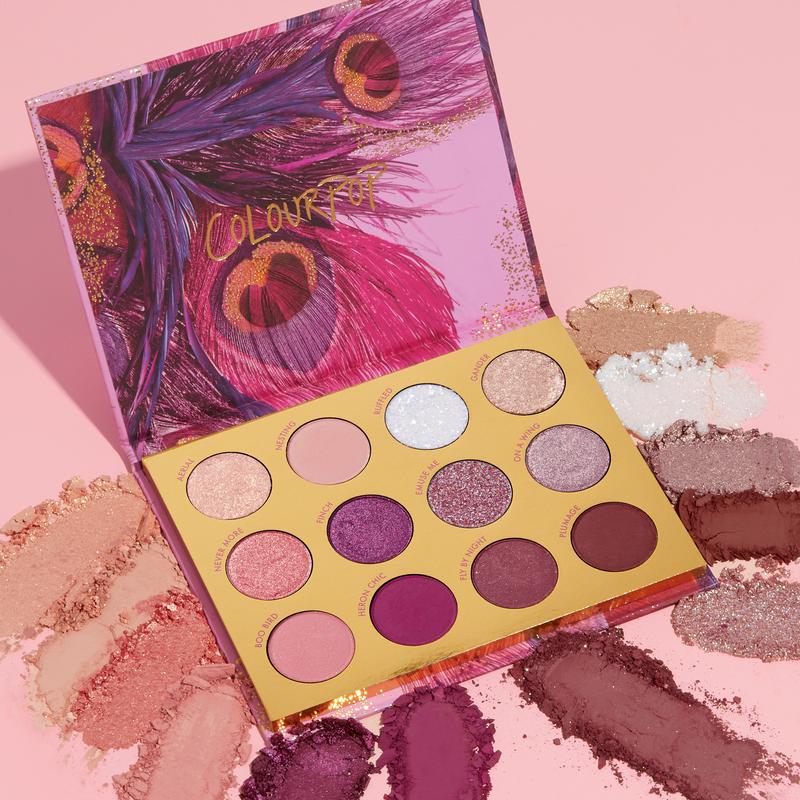 You'll be preenin' yourself in this glammed up palette! Vibrant coral, rich purple, and sparkling neutrals create a gorgeous palette just in time for your glam night out. The perfect mix of matte, metallic, Pressed Glitter, and Super Shock formulas make this palette so fun and versatile to use.
PRESSED POWDER SHADOW : Highly pigmented shadow that applies evenly and feels ultra-velvety and silky. This long wearing formula contains a unique combination of softer powders which adheres easily to the eyes, gives a soft focus effect, and blends smoothly and evenly.
PRESSED PIGMENT : A vibrant and creamy formula that delivers maximum payout for an intense look.
PRESSED GLITTER : Glitter, but make it easy. Our innovative, self-adhering pressed glitters make it easy to take your look to the next level. applies effortlessly onto the skin and stays on all day and night -- dance party tested. A multi dimensional, highly reflective look is yours with the tap of your finger. 
SUPER SHOCK SHADOW : Our famous long-wearing crème powder formula with a unique bouncy-like texture. It's super creamy, insanely pigmented, and has one swipe intensity with zero fallout.
SHADOW PALETTE
aerial: soft pink with a gold flip
nesting: soft blush pink
ruffled: white with multidimensional glitters
gander: champagne gold
never more: soft coral red
finch: deep magenta
emuse me: soft violet with multidimensional glitter
on a wing: lavender taupe with a duochrome gold flip
boo bird: pink with flex of gold
hernon chic: true magenta
fly by night: plum with flex of gold
plumage: deep red brown
Net Weight
PRESSED POWDER SHADOW : 7 x 0.90 g / 0.03 oz
PRESSED PIGMENT : 1 x 0.90 g / 0.03 oz
PRESSED GLITTER : 2 x 0.90 g / 0.03 oz
SUPER SHOCK SHADOW : 2 x 1.45 g / 0.05 oz
Application Tips

For PRESSED POWDER SHADOW / PIGMENT:
Apply with your favorite shadow brushes.
flat and firmer brushes will give the most color payoff.
fluffier brushes are great for blending.
use a small angled brush to line the eyes.
For PRESSED GLITTER:
Apply with fingertips using tapping motions or with our small or medium shader brushes for a more precise application.
For SUPER SHOCK SHADOW :
Use your fingertip and tap shadow directly onto the eyelid. A flat, firm synthetic brush will also work and is perfect for detailed application close to the lash line.
TO BLEND - Use a fluffy synthetic brush with good movement, dip the tip into the shadow and apply with a "windshield wiper" movement throughout the crease of the eye for a soft and diffused look.