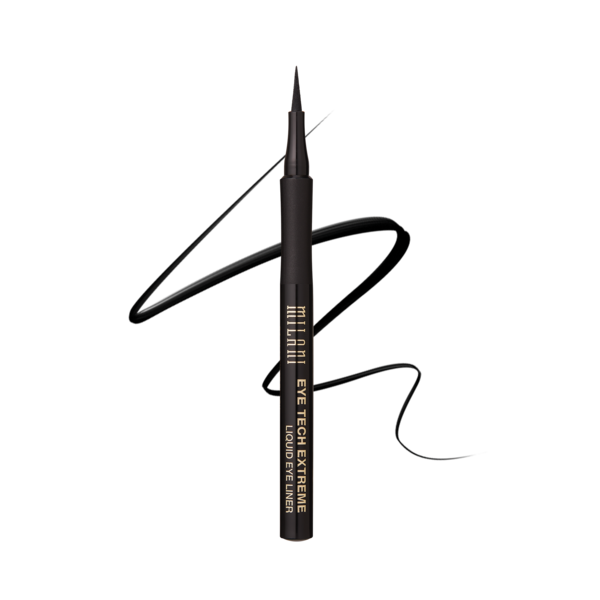 Easy to use eyeliner ... but make it waterproof. Our non-feathering, transfer-proof Eye Tech Extreme is a top pick for best waterproof drugstore eyeliner. Just like our other Eye Tech liquid eyeliners, Eye Tech Extreme is fast and easy to apply. This party-proof formulation lasts through sweat, tears, swims and showers. Choose from two incredibly flattering black shades for striking looks and captivating lines. Wings, cat eyes, tightlines and more -- you can do it all with Eye Tech, and your look will last and last. Have you had your eye out for the best waterproof eyeliner? Look no further.
INGREDIENTS
Water (Aqua), Butylene Glycol, Styrene/Acrylates/Ammonium Methacrylate Copolymer, PEG-60 Hydrogenated Castor Oil, Phenoxyethanol, Coco-Glucoside, Potassium Sorbate, Citric Acid, Sodium Benzoate, Sodium Laureth-12 Sulfate, Ammonium Hydroxide, Iodopropynyl Butylcarbamate, Black 2 (CI 77266).
HOW TO USE


Shake well. Starting at your eye's inner corner, trace your lash line with this bold eyeliner, sticking as close to your lashes as you can. Keep things thin and defined by drawing with the tip, or go bold by using the side of the liner tip. This felt tip liquid eyeliner has amazing staying power, so when it's time to come clean, remove product with an oil-based eye makeup remover.