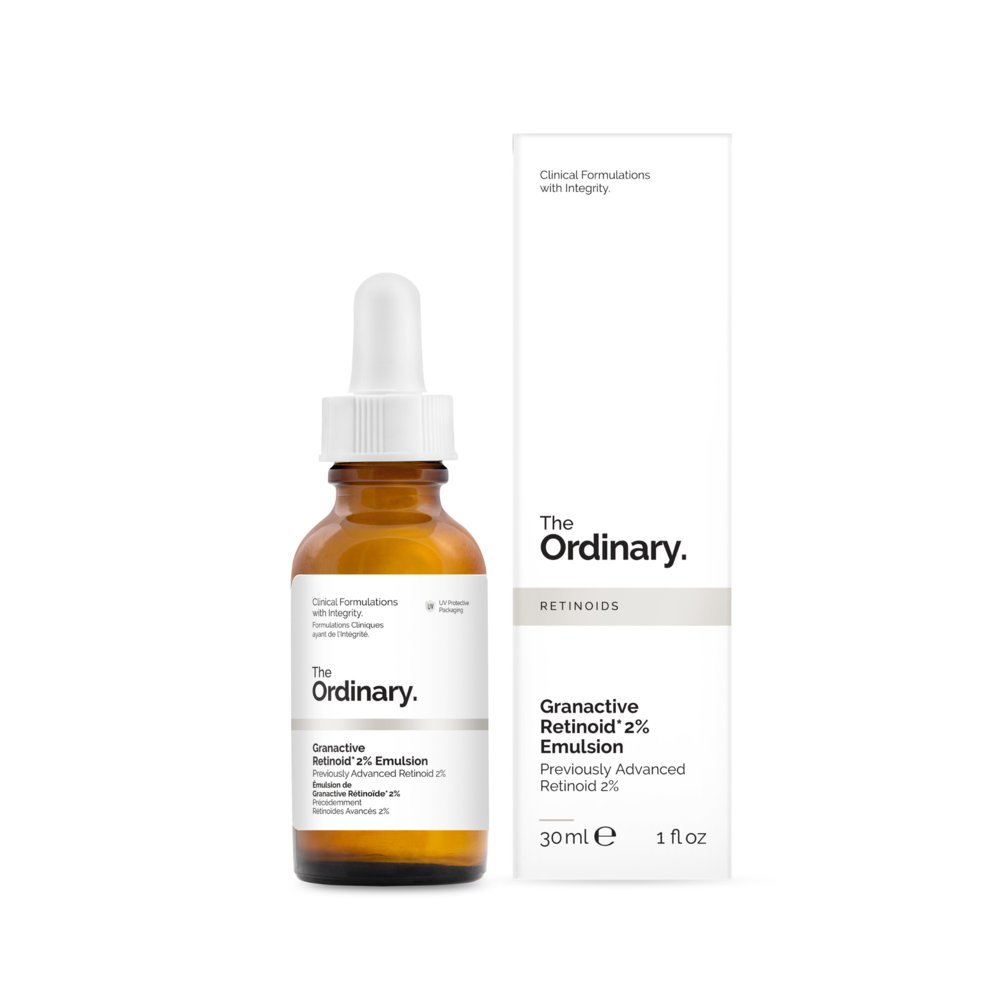 Granactive Retinoid 2% Emulsion
Previously Advanced Retinoid 2%
This formulation combines two forms of next-generation retinoid actives:
a) A 2% concentration of Granactive Retinoid which is a complex of solubilized Hydroxypinacolone Retinoate (HPR). HPR is a highly-advanced form of retinoid which is, in fact, a non-prescription ester of all-trans direct retinoic acid that offers a multi-fold better effect against signs of aging than retinol, retinyl palmitate and nearly all other forms of non-prescription retinoid;
b) A sustained-delivery form of pure retinol in a protective capsule system which supports both the delivery and the effect of Granactive Retinoid.
Both forms of retinoid used avoid the irritation associated with retinoids (including retinol) use while delivering better visible results against signs of aging.
This product uses next-generation retinoid active technologies which have been shown to achieve better reduction in signs of aging than retinol without irritation. These technologies cannot be compared directly with retinol itself in terms of concentration because they include a different retinoid molecule, in a similar way that Retinol cannot be compared with Retinoic Acid in terms of concentration.
While the new offerings of Granactive Retinoid in Squalane offer a very-light-weight solution for better compatibility with several steps in a regimen, the existing formula continues to be a creamy hydrating emulsion for those who prefer this format.
Caution : Retinoids can make the skin more sensitive to UV radiation. Sun protection is particularly important when using retinoids. This product must not be used in conjunction with other retinoids including retinol or retinoic acid. This product is not a treatment for acne. Acne-prone skin may experience a temporary increase in acne during the first few weeks of using any form of retinoid including those used in this formulation.
Note : When pregnant or breastfeeding, it is recommended to avoid any skincare products containing retinoids such as formulations with Granactive Retinoid or Retinol.
ph 5.00-6.00
water-free - NO
alcohol-free - YES
oil-free - YES
silicone-free - YES
nut-free - YES
vegan - YES
gluten-free - YES
cruelty-free - YES
Net Weight : 30 ml / 1 fl.oz
Ingredients
Aqua (Water), Glycerin, Caprylic/Capric Triglyceride, Ethyl Linoleate, Propanediol, Dimethyl Isosorbide, Cetearyl Isononanoate, Bisabolol, Hydroxypinacolone Retinoate, Retinol, Tasmannia Lanceolata Fruit/Leaf Extract, Inulin Lauryl Carbamate, Glyceryl Stearate, Ceteareth-12, Ceteareth-20, Cetearyl Alcohol, Carrageenan, Xanthan Gum, Acacia Senegal Gum, Cetyl Palmitate, Sucrose Laurate, Polysorbate 20, Isoceteth-20, Rosmarinus Officinalis (Rosemary) Leaf Extract, Hydroxymethoxyphenyl Decanone, Behentrimonium Chloride, Trisodium Ethylenediamine Disuccinate, Disodium EDTA, Dehydroacetic Acid, Benzoic Acid, Ethylhexylglycerin, Phenoxyethanol, Chlorphenesin
Application Tips
Apply a small amount to face in the PM as part of your skincare regimen, after water-based serums but before heavier treatments. Do not use with other retinoid treatments. Avoid unprotected solar exposure. If irritation occurs, cease use and consult a physician. Use only as directed on unbroken skin. Patch testing prior to use is advised. Keep out of reach of children. Refrigerate after opening.