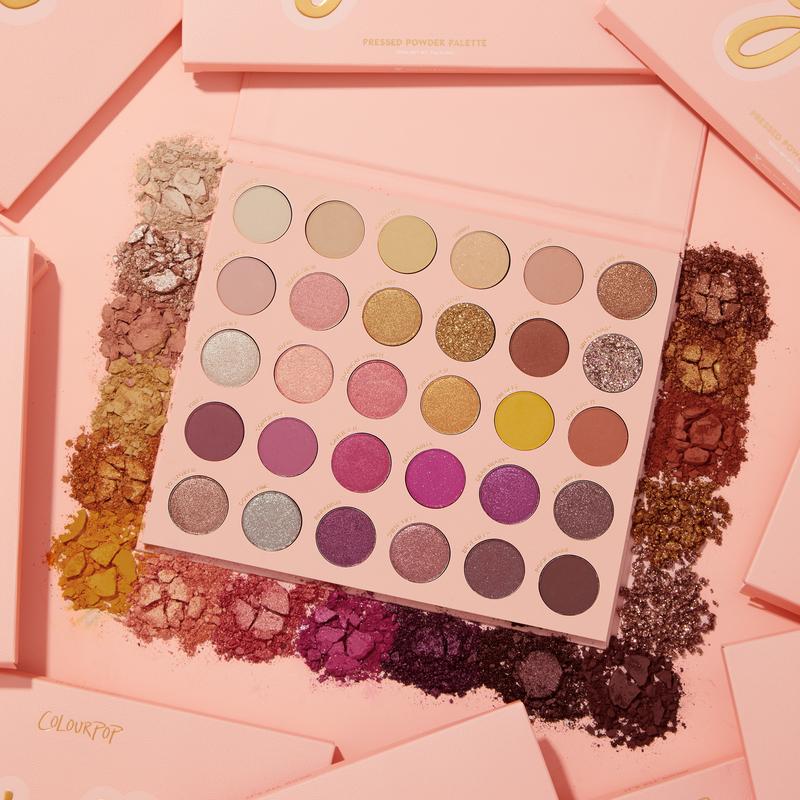 Meet our newest 30 pan shadow palette in vibrant shades that'll make you feel like you're thriving! Mixed finishes of rich mattes, shining metallics, and insane Pressed Glitters create the perfect looks from sunrise to sunset. If you don't know, now you know.
PRESSED POWDER SHADOW : highly pigmented shadow that applies evenly and feels ultra-velvety and silky. this long wearing formula contains a unique combination of softer powders which adheres easily to the eyes, gives a soft focus effect, and blends smoothly and evenly.
SHADOW PALETTE
no worries: soft creamy peach
thriving: pale nude
carefree: pastel dandelion
sunny: light tangerine with hot pink flecks
all about it: dusty coral
lucky break: midtone copper with silver glitter
good vibes: midtone coral pink
peace sign: orangey coral with a hot pink shift
heart 2 heart: warm toned gold
gold star: warm gold with bright gold glitter
goal getter: orangey brown
michelada: multidimensional soft gold and hot pink glitter
happy go lucky: soft icy pink
10/10: bright orange coral with a gold flip
tropical punch: hot coral with a bright gold flip
cheers 2 u: warm tangerine with a gold flip
sun belt: vibrant yellow
you got it: terracotta with copper flecks
vibez: midtone chestnut
concierge: cool toned berry
cater 2 u: pinky fuschia
margarita: bright magenta with silver flecks
dear diary: raspberry
all smiles: deep blackberry with hot pink and gold pinpoints
so stoked: true rose gold
down time: cool toned lavender with a blue shift
paradiso: violet
suite life: bright cranberry with a silver sheen
best life: deep berry with blue sparkle
rock sugar: dark purple toned brown
Net Weight
PRESSED POWDER SHADOW : 33g / 1.16oz
Application Tips
Apply with your favorite shadow brushes.
Flat and firmer brushes will give the most color payoff.
Fluffier brushes are great for blending.
Use a small angled brush to line the eyes.