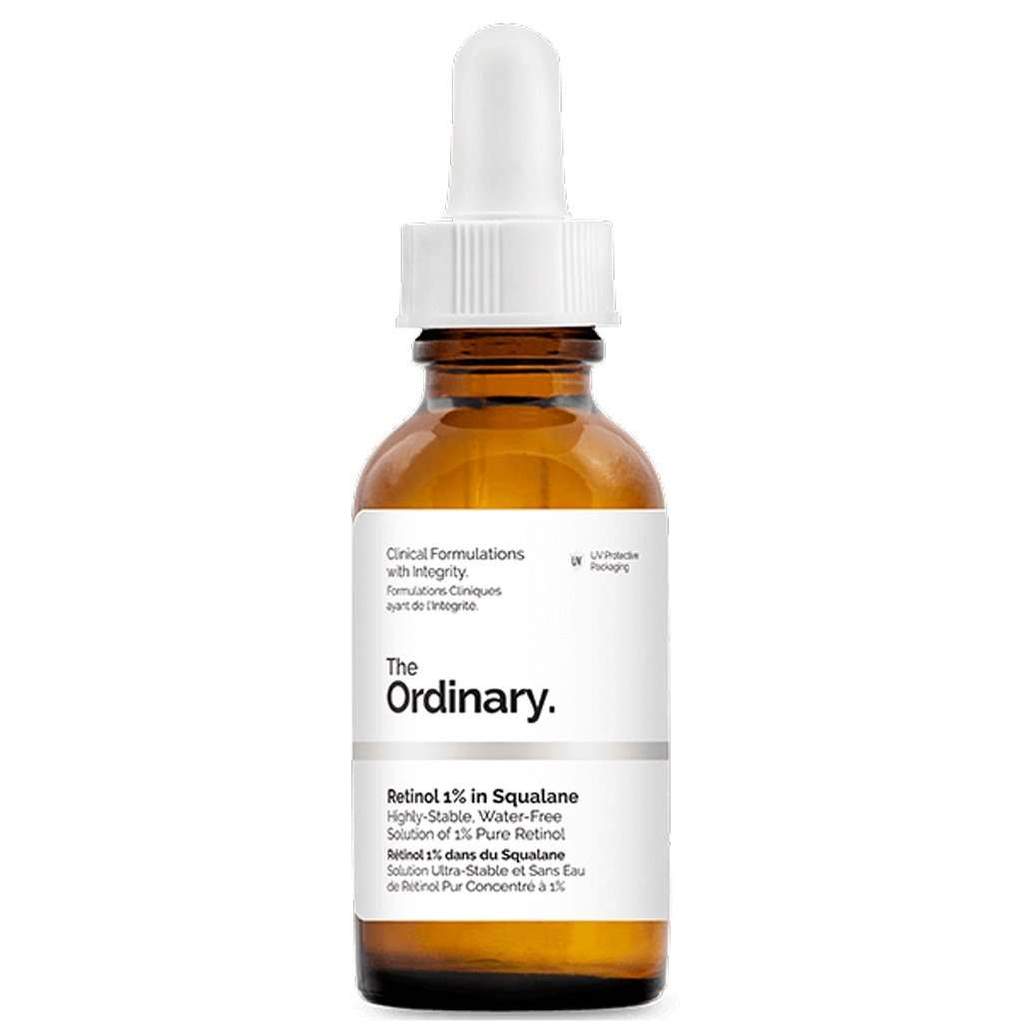 Reduce wrinkles, dark spots, and other signs of aging with this high-strength retinol serum.
Retinol 1% in Squalane a lightweight serum with a high concentration of retinol in a squalane base. This treatment visibly reduces the signs of aging. It diminishes the look of wrinkles and fine lines, brightens dark spots and hyperpigmentation, and smooths and refines the skin's texture.

Retinol:  a well-researched retinoid with powerful anti-aging benefits.
Squalane:  a plant-derived emollient ingredient that offers lightweight hydration.
Caution: Retinol can cause significant irritation, redness and peeling, especially around the eyes and mouth, in the early stages of treatment while skin builds tolerance. If you have not used high-strength retinol formulas in the past, we strongly recommend that you start your retinol regimen with our Retinol 0.2% in Squalane and adjust to higher strengths of Retinol 0.5% in Squalane and Retinol 1% in Squalane as your skin builds tolerance. You will achieve the same end results without the unpleasant redness and peeling along the way.

Note: When pregnant or breastfeeding, it is recommended to avoid any skincare products containing retinoids such as formulations with Granactive Retinoid or Retinol.
Water-free
Alcohol-free
Silicone-free
Nut-free
Vegan
Gluten-free
Cruelty-free


SIZE: 30ml
Ingredients
Squalane, Caprylic/Capric Triglyceride, Retinol, Solanum Lycopersicum (Tomato) Fruit Extract, Simmondsia Chinensis (Jojoba) Seed Oil, BHT.
Application Tips
Apply a small amount at night before oils, moisturizers, and creams. Do not use this serum with other products containing retinoids, such as retinoic acid. Retinoids can make your skin more sensitive to UV radiation. We recommend wearing sunscreen during the day. If irritation occurs, this product can be diluted to reduce its strength.