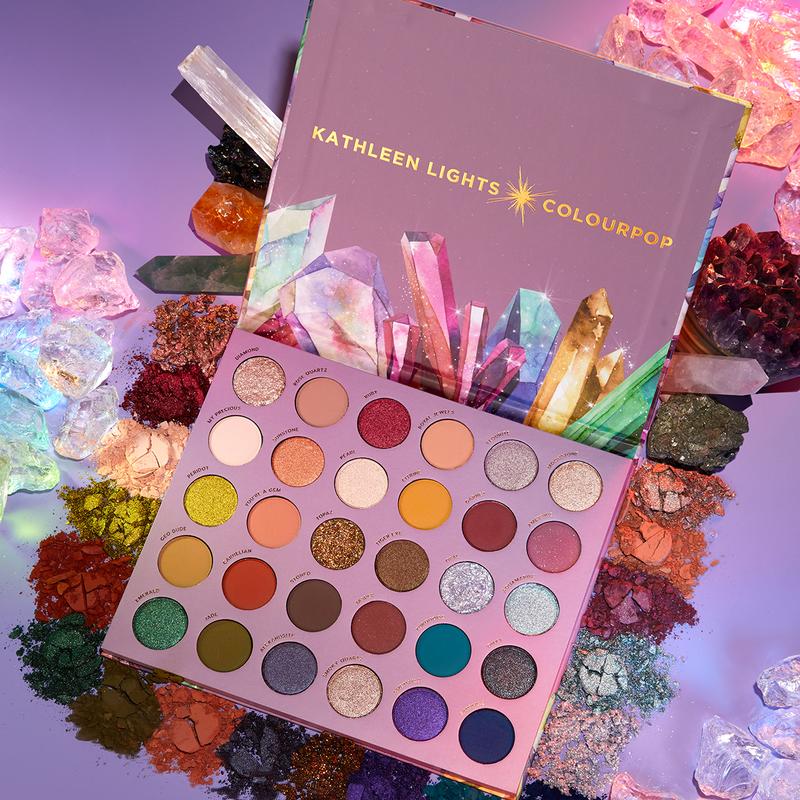 With BIG ideas, come even BIGGER palettes. In collaboration with KathleenLights, introducing our biggest palette ever. 30 super pigmented shades, including the perfect combination of matte and metallic shadows, 1 Super Shock Shadow, and 2 Pressed Glitters. Inspired by crystals and gemstones, create a rich neutral eye or the perfect jewel toned monochromatic look - this palette is everything.
PRESSED POWDER SHADOW : Highly pigmented shadow that applies evenly and feels ultra-velvety and silky. This long wearing formula contains a unique combination of softer powders which adheres easily to the eyes, gives a soft focus effect, and blends smoothly and evenly.
PRESSED PIGMENT : A vibrant and creamy formula that delivers maximum payout for an intense look. 
PRESSED GLITTER : Glitter, but make it easy. Our innovative, self-adhering pressed glitters make it easy to take your look to the next level. applies effortlessly onto the skin and stays on all day and night -- dance party tested. A multi dimensional, highly reflective look is yours with the tap of your finger. 
SUPER SHOCK SHADOW : Our famous long-wearing crème powder formula with a unique bouncy-like texture. It's super creamy, insanely pigmented, and has one swipe intensity with zero fallout. 
SHADOW PALETTE
diamond: icy champagne with blue reflects
rose quartz: soft neutral mauve
ruby: crimson red
royal jewels: neutral peach
fluorite: icy lavender with a pale green flip
moonstone: silvery taupe with purple and blue sparkle
my precious: pale peach
sunstone: fiery orange-y gold
pearl: pale gold
citrine: true mustard yellow
garnet: garnet red
ametrine: dusty mauve purple with golden flecks
peridot: bright chartreuse
you're a gem: burnt terracotta
topaz: bronze glitter with copper flecks
tiger eye: antique bronze
opal: multidimensional silver glitter with multicolored flecks
aquamarine: icy baby blue
geo dude: mid-tone neutral yellow brown
carnelian: burnt orange
stoned: cool deep brown
jasper: red brown
turquoise: true turquoise
onyx: charcoal with silver pearl
emerald: rich emerald
jade: olive green
alexandrite: eggplant
smoky quartz: icy taupe
amethyst: vibrant purple
sapphire: navy blue
Net Weight
PRESSED POWDER SHADOW : 24 x 0.90g / 0.03oz
PRESSED PIGMENT : 3 x 0.90g / 0.03oz
PRESSED GLITTER : 2 x 0.90g / 0.03oz
SUPER SHOCK SHADOW : 1 x 1.40g / 0.05oz
Application Tips
For PRESSED POWDER SHADOW / PIGMENT : 
Apply with your favorite shadow brushes.
Flat and firmer brushes will give the most color payoff.
Fluffier brushes are great for blending.
Use a small angled brush to line the eyes.
For PRESSED GLITTER :
Apply with finger tips using tapping motions or with our small or medium shader brushes for a more precise application.
For SUPER SHOCK SHADOW :
Use your fingertip and tap shadow directly onto the eyelid. A flat, firm synthetic brush will also work and is perfect for detailed application close to the lash line.
TO BLEND - Use a fluffy synthetic brush with good movement, dip the tip into the shadow and apply with a "windshield wiper" movement throughout the crease of the eye for a soft and diffused look.