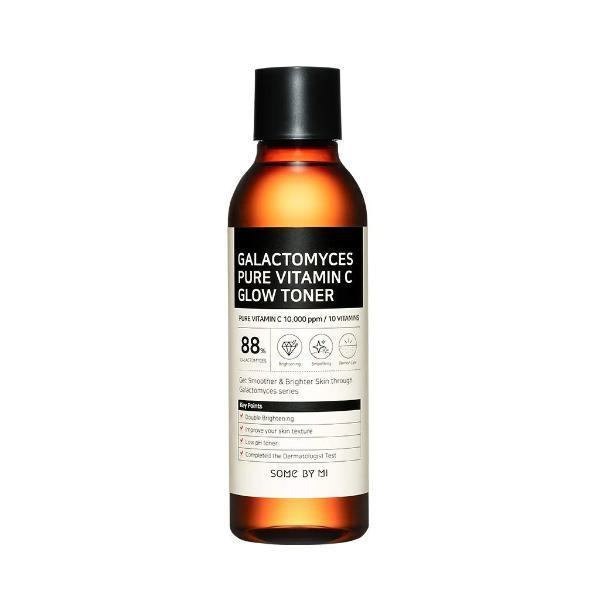 Some By Mi Galactomyces Pure Vitamin C Glow Toner, 200 ml
This toner has a multifunctional benefit: whitening, antioxidant, moisturizing, nourishing and improves skin vitality.
It is gentle on the skin while making it radiant and flawless.
Formulated with natural ingredients that increase skin's resilience and vitality.
It contains 88% (880,000 ppm) of toner and 75% of serum (750,000 ppm) which helps brighten the skin.
With high-concentration Whitening Pure Vitamin C + 10 vitamins which helps soothe the skin and restore its elasticity.
 Some By Mi Galactomyces Pure Vitamin C Glow Toner

It aids in skin nourishment.
Moisturizes the skin and makes it smoother.
It helps maintain clear skin.
Reduces the appearance of large pores.
Lightens dark marks and removes skin impurities.
VOLUME / ORIGIN
Volume: 200ml
Made in South Korea
HOW TO USE
After cleansing the face, use Galactomyces Pure Vitamin C Glow Toner before applying essence, serum or moisturizer on the skin.
Dab toner gently on the skin for better absorption.
PRECAUTIONS
If the following symptoms occur while using this product, discontinue use and consult your dermatologist: (1) Red spots, swelling, itching, or irritation (2) If the application area develops the symptoms above after exposure to direct sunlight.
Do not apply to areas with injuries, eczema, or dermatitis.
Storage & Handling:
(1) Keep the cap closed after use. (2) Keep out of reach of children. (3) Keep away from direct sunlight and extremely high or low temperatures
KEY INGREDIENTS
Soluble Vitamin C, Butylene glaze, 12-hexane Niacinamide Glycerin, Purified Water, Allantoin, Cellulose, Ethylhexyl Glycerin, Adenosine, Hydrogen HP E Drasin, Polarglyceryl-10 stearate, Panthenol, Propolis extract, Ionia fruit extract, Hydrolysate, Extract of biotin polish, aniline extract, Pyridoxine, cactus fruit extract