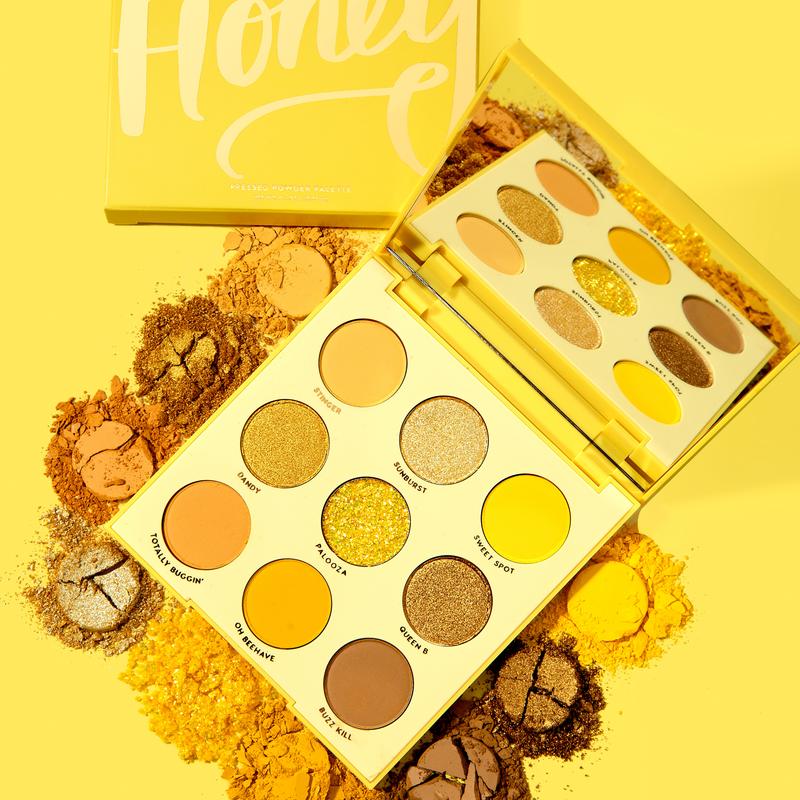 Sweet like honey, bright like the sun.
This yellow monochromatic palette features every shade of yellow under the sun.
Super pigmented shadows in bright, fun, happy shades of matte, metallic, and Pressed Glitter finishes are like sunshine in a palette. 
PRESSED POWDER SHADOW : Highly pigmented shadow that applies evenly and feels ultra-velvety and silky. This long wearing formula contains a unique combination of softer powders which adheres easily to the eyes, gives a soft focus effect, and blends smoothly and evenly.
FINISH : Matte, metallic, pressed glitter
SHADE : Yellows, golds, neutrals
SHADOW PALETTE
stinger: matte buttery yellow
sunburst: metallic lemon yellow with blue glitter
sweet spot: matte primary yellow
dandy: metallic vibrant yellow gold
palooza: bright yellow with a copper duochrome shift
queen b: metallic dandelion
totally buggin': matte butterscotch yellow
oh beehave: matte mustard
buzz kill: matte yellow brown
Net Weight
PRESSED POWDER SHADOW :  9 x 0.90 g / 0.03 oz
Application Tips

Apply with your favorite shadow brushes.
Flat and firmer brushes will give the most color payoff.

Fluffier brushes are great for blending.

Use a small angled brush to line the eyes.